News
Industry reacts after Chandrayaan-3's successful landing on the moon
Indian Space Association, the premier Industry Association of private space and satellite companies in India, has applauded ISRO and the Indian government for the successful touchdown of the Chandrayaan-3 lander on the south pole of the moon surface and called it a historic moment for India.
Speaking on the occasion, Lt. Gen. AK Bhatt (Retd.), Director General, Indian Space Association said, "We applaud ISRO on the successful landing of the Chandrayaan-3 which shows India's strong spirit of space exploration and our prowess in the space domain. The successful landing shows the potential of the Indian space sector and places India among the very few nations in the whole world who have achieved this feat. It is also a harbinger of the exciting opportunities that it brings for private players. It not only encourages the development of the lunar space economy but also signals a major change".
"This signifies these moon landings will also further propel our actions towards creating a flourishing lunar economy and will encourage broader celestial exploration, from Mars and beyond. An important step forward in space exploration and commercialization will be with the inclusion of more private players and our growing spacetech startups in the future missions to make a India a leader in the global space economy" he added.
Thierry Klein, President, Solutions Research, Nokia Bell Labs, said, "Nokia congratulates ISRO and the Government of India on the landing of the Chandrayaan-3's Vikram lander on the south pole of the Moon. The challenges of any lunar mission are immense. The knowledge Chandrayaan-3 gathers will be invaluable and the success of Chandrayaan-3's crucial first phase serves as an inspiration for all future missions, including our own."
Rishi Ahuja, Founder, Klip VR Immersive Technologies Pvt. Ltd., said, "We are thrilled and congratulate ISRO and the Indian government for the historic landing of Chandrayaan-3 on the Moon. Inspired by the Chandrayaan mission, we are running a unique and groundbreaking Chandrayaan-VR program offering school students an immersive experience, enabling them to experience India's remarkable Moon Mission through virtual reality. We have been in consultation with ISRO as well and are partnering with multiple schools across India to showcase the entire process, enriching scientific learning for students in the country. Given the perpetual fascination students hold for space, this program not only nurtures their curiosity but also serves as a catalyst for fostering interest in space sciences among Indian students. Now with Chandrayaan-3 successfully landed on Moon, we expect much more interest around our unique VR experience."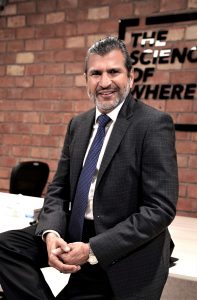 Agendra Kumar, Managing Director, Esri India. said, "The milestone "India is on the Moon" by Chandrayaan 3 will be recorded in history as one of India's biggest achievements. It will help India in establishing itself as a global leader in the space industry. I would like to congratulate entire team of ISRO, entire space community and geospatial community for reaching where a very few countries have reached till now."
Congratulating India, Google CEO Sundar Pichai tweeted "What an incredible moment! Congratulations to @isro for the successful landing of #Chandrayaan3 on the moon this morning. Today India became the first country to successfully achieve a soft landing on the southern polar region of the moon."