Consumer Tech
News
Nokia's Chennai factory achieves 7 million units milestone, strengthening "Make in India" initiative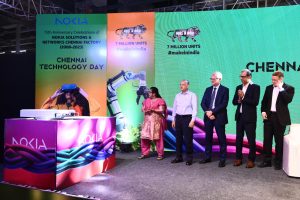 Nokia's factory in Chennai has reached a significant production milestone by reaching seven million telecom units, the company announced today. Nokia's achievement is in line with the Government of India's 'Make in India' initiative that encourages companies to develop and manufacture products in the country. The announcement was made in the presence of senior Government dignitaries at a function held at the factory premises today. The factory in Chennai, one of Nokia's largest globally, is a large-scale manufacturer of telecom infrastructure equipment including for 4G/5G networks for both domestic and global markets. The factory has completed fifteen years of operation this year and is playing a key role in boosting telecom equipment manufacturing in the country.
The factory manufactures 5G New Radio (5G NR), 5G massive MIMO products, 4G/LTE radios as well as Fiber Broadband equipment among others. Nokia exports approximately 50 percent of the production. Further, it has progressively increased the localization of components by up to 2 times compared to previous years in 5G equipment manufacturing.
"Our Chennai factory is a testament to the skill and expertise of Indian talent. From being the first to manufacture 5G NR in India to now producing 5G massive MIMO products and transport network elements, we have come a long way," said Mr. Teemu Toiviainen, Head of Global Manufacturing & EMS Management. "We at Nokia strongly believe in Sustainability to make the world a better place for future generations. This factory operates with wind and solar energy, contributing up to 81% of green energy consumption until most recently; targeting to be 100% by 2025," he added.