News
Ruby Sinha Appointed BRICS CCI Women's Vertical President
New Delhi — The BRICS Chamber of Commerce and Industry (BRICS CCI) has appointed Ruby Sinha as the President of BRICS CCI WE, the women's vertical of the BRICS BRICS CCI for a period of three years.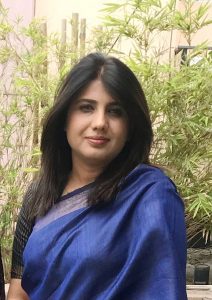 The BRICS Chamber of Commerce and Industry works towards promoting active trade, commerce and entrepreneurship between the BRICS and other friendly nations. Sinha will take over from Shabana Nasim who has become an Executive Director in BRICS CCI and Chief Patron of BRICS CCI WE.
The BRICS CCI women's vertical is endeavouring towards building a credible repository of working professionals, entrepreneurs, and business partners across different geographies and industry verticals and promoting business interactions among members by organizing regular events platforms and other forms of interactions. It also facilitates mentoring/training programs for women professionals.
Announcing the appointment, Dr. B.B.L. Madhukar, Director-General- BRICS CCI said, "We firmly believe that Ruby Sinha's vision, strategic acumen, and dedication will elevate the women's vertical to new heights of success and significantly contribute to the overall objective of the Chamber. On behalf of BRICS CCI, I extend my warmest congratulations to her."
Speaking about her new role, Ruby Sinha, President, BRICS CCI WE said "It's an honour for me to come at the helm of affairs of the women's vertical of BRICS CCI at a time when the G20's focus on gender-based digital inclusivity and skilling along with our Hon'ble PM's vision of this decade being a Techade is a prime focus. I have been a part of the women's vertical BRICS CCI WE since its inception and being a woman entrepreneur myself, I hope to take our focus on women empowerment and enterprise further during my tenure."
An entrepreneur herself, Ruby Sinha is the Founder of sheatwork.com, a one-stop knowledge hub for women entrepreneurs and Kommune Brand Communications. She started her career as a journalist and has been involved in initiatives to support and encourage entrepreneurship among women.