Consumer Tech
News
MediaTek with Motorola & Flipkart showcase Motorola Edge 40 smartphone & Motorola Envision Smart TVs to Influencers
New Delhi – MediaTek, the world's 4th largest global fabless semiconductor company, hosted the 'Catch-up with Tech – a Lifestyle Influencer Meet & Greet' in collaboration with Motorola and Flipkart on 26th May 2023 in New Delhi. The meet-up is a part of the campaign towards democratizing technology for the consumer. Representatives from MediaTek, Motorola, and Flipkart were present to share insightful and engaging conversations about the innovative smart devices and new-age technologies powering our everyday life.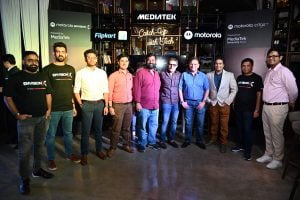 Catch-up with Tech threw spotlight on the extensive showcase of newly launched devices including Motorola Edge 40 powered by MediaTek Dimensity 8020 and Motorola Envision Smart TVs powered by MediaTek."Catch-up with Tech is an initiative towards bringing our technology closer to the consumers and aims to empower consumers to make informed buying decisions and know more about the technology that powers their favorite smart devices. In collaboration with Motorola & Flipkart, this meet-up is in-line with MediaTek's vision of technology democratization and making innovative technology accessible to everyone", said Anuj Sidharth, Deputy Director, Marketing & Corporate Communications, MediaTek. "MediaTek and Motorola have had great success in the past in India and we look forward to our long-term collaboration."
Shivam Ranjan – Head of Marketing at Motorola – Asia Pacific said, "Our recently launched 5G smartphones – namely moto g73 5G and motorola edge 40 plus the newly launched Motorola 'Envision' smart TVs, that are powered by class leading MediaTek chipsets, have set new benchmarks in their respective categories and are a testament to our commitment towards constantly innovating to provide the most differentiated consumer experiences. We are delighted to partner with MediaTek to create a truly unique content platform through 'Catch up with Tech' which allows consumers to witness our products and the meaningful consumer experiences created by our devices, through relatable and authentic social creators. Be it gaming, photography or design, these creators are able to translate their experiences into genuine, easy to understand consumer content that creates true value for both brands."
"Motorola's Envision Smart TV range is poised to meet the surging demand for personalized, high-quality entertainment consumption in India. Offering the latest innovations at affordable prices, these cutting-edge TVs cater to viewers in search of seamless streaming and immersive experiences. With an extensive range encompassing from 32″ to 65″, across HD, FHD, UHD and QLED displays options, combined with impeccable technological capabilities of Google TV, our aim is to democratize the television industry in India," said Jagjeet Harode, Vice President – Electronics, Appliances and Private Brands at Flipkart.
An interactive photography session was organized during the meet-up to share the latest techniques of mobile photography and videography on Motorola Edge 40 powered by MediaTek Dimensity 8020. The device has high-end features to sustain against prolonged immersion in water for up to 30 minutes. Further, a live gaming session was also organized to show the real-time immersive experience on the device.