News
National Technology Day 2023 -Tech Leaders' Take
New Delhi — Prime Minister Narendra Modi inaugurated the National Technology Day 2023 program here at Pragati Maidan in New Delhi. The event not only marked the beginning of the 25th year celebration of National Technology Day, which will take place from May 11t to May 14 but also witnessed the Prime Minister laying the foundation stone and dedicating numerous projects worth over Rs 5800 crores to the nation.
These projects are aimed at promoting scientific and technological advancements in the country and align with the Prime Minister's vision of building a self-reliant India by bolstering scientific institutions.
The projects dedicated to the nation include the Fission Molybdenum-99 Production Facility in Mumbai, the Rare Earth Permanent Magnet Plant in Visakhapatnam, the National Hadron Beam Therapy Facility in Navi Mumbai, the Radiological Research Unit in Navi Mumbai, the Homi Bhabha Cancer Hospital and Research Centre in Visakhapatnam, and the Women & Children Cancer Hospital Building in Navi Mumbai.
During the program, the Prime Minister also inaugurated an Expo that showcased recent scientific and technological advancements made in India. He personally took a walk-through of the exhibition. Additionally, he released a commemorative stamp and coin to mark the occasion.
In his address to the audience, the Prime Minister emphasized that the 11th of May holds immense significance in the history of India. He highlighted that this day commemorates the remarkable achievement in Pokhran by Indian scientists, which filled the entire nation with pride.
Here is what the industry leaders said:
Kunal Purohit, Chief Digital Services Officer, Tech Mahindra said, "National Technology Day is a significant occasion to celebrate the incredible advancements in technology that have transformed the world as we know it. Today, technology is omnipresent and a key facilitator in creating needle-moving outcomes across all industries and governments. The convergence of technologies such as Generative AI, automation, Metaverse, Blockchain, 5G and quantum computing is unlocking new possibilities for businesses and creating a more connected world. It is also enabling significant reduction in the cost of doing business, enhancing revenues through increased differentiation, and ensuring higher customer delight. Tech Mahindra is focused on leveraging next-generation technologies to enable end-to-end digital transformation for global customers and solving complex business challenges."
Anku Jain, Managing Director, MediaTek India said, "In today's dynamic era of evolution, technology is driving human progress, and the force behind technological growth comes with innovative ideas. We envision a smarter future in which digital technologies have the potential to revolutionize how everyone does business in an increasingly connected world. New-age disruptive technologies such as AI, IoT, ML, and cloud computing are the key factors in unlocking the true potential of the IT sector in the next decade of India's growth in technology and will drive new possibilities in digital transformation. Organizations must focus on upskilling and reskilling the employees to develop competencies and unfold tremendous growth opportunities across sectors. At MediaTek, we believe in investing in local Indian talent and scaling capabilities to drive innovation for India and global markets through dedicated technical training sessions, e-learning platforms, and regular opportunities for upskilling."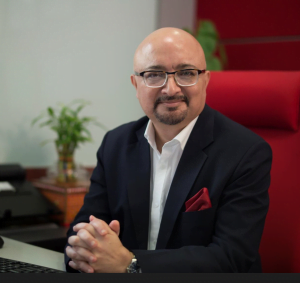 Rajiv Bhalla, Managing Director India & Vice President Large Video Wall Experience (APAC) at Barco
said, "In this progressive era of evolution, there's a significant increase in the demand for technology adoption, disrupting & impacting our lives like we never comprehended. New-age innovations has escalated the significant surge in the use of technologies and digital demands and has played an essential role in our lives more than ever. As a result, the government is also prioritizing digitalization and the adoption of new-age technologies, thus enabling India to emerge as a digital-first nation.
Organizations are focusing on revamping their business digitally & taking initiatives to enable digital transformation. This includes an increased focus on skilling to build digital talent, enhanced investment in technological innovations and R&Ds, hiring young talent, and improving infrastructural facilities with a strong vision to create a digitally enabled India. In all this, Barco foresees acceleration in digitization, adoption of new-age technologies like IoT, cloud-led data, artificial intelligence, machine learning, AI innovation, and seamless connectivity & networking. Going forward, Barco expects automation of processes, focus on tech-based upskilling & reskilling as the major upcoming trends in technology."
Matthew Foxton, India Regional President and Vice President Branding and Communications, IDEMIA said "On this Technology Day, we celebrate the power of technology to transform the way we interact with the world and shape our physical and digital identities. Technology has the potential to empower individuals and organizations alike, enabling us to connect, communicate, commute  and collaborate in ways that were once unimaginable. At the same time, the rise of technology has created new challenges, particularly around privacy and security. As a company that is dedicated to helping individuals and businesses protect their identities in the digital age, we understand the importance of staying at the forefront of technological innovation while also advocating for seamless  and convenient use. So let us use this day to celebrate the power of technology and to renew our commitment to building a safer and more secure world."
Agendra Kumar, Managing Director, Esri India said "Technology has a key role to play in building a resilient and sustainable future for everyone, and advanced spatial technologies are playing a crucial role in demystifying the interconnections and interdependencies for solving complex problems and enhancing decision support through timely intelligence. Leveraging the power of GIS, policymakers, development professionals, and community leaders are integrating social, environmental, and economic information in a way that enables them to gain greater insight into complex situations, make data-driven decisions on where to act and apply resources, and collaborate across organizations and around the world. Geospatial information combined with socio-economic and other statistical data also provides critical inputs for addressing the complex challenges of sustainability for businesses. Data availability and sharing have now become easier in India. With enabling policies like the National Geospatial Policy and the Geospatial Data Guidelines in place, the availability of geospatial data has also improved. In such a scenario, GIS will prove to be a more significant tool in assessment, prioritization, mitigation, planning, change management, and capacity building to address economic inequality, social instability, and environmental degradation challenges."