Consumer Tech
News
Nokia demonstrates the exponential power of networks at India Mobile Congress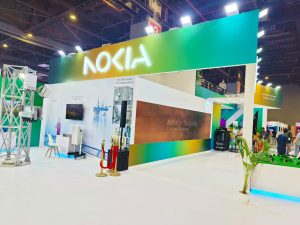 Nokia has showcased a wide array of exciting business, industrial and societal applications enabled by 5G and 6G network technology at the India Mobile Congress scheduled from 27-29 October at Pragati Maidan, New Delhi. The demos include Rapid Rail NCRTC, Network on the Moon, immersive 5G apps and Nokia's E2E portfolio of zero footprint energy solutions.
 Sanjay Malik, Sr VP and Country Head, Nokia India; Tarun Chhabra, Head of Mobile Networks and other members of the India leadership are scheduled to deliver addresses on relevant topics during the event.
Here is a brief description of the showcases:
 6G sensing demo
In its 6G demo, Nokia is showing how future networks will act as a form of 'radar', sensing objects, people and movements while preserving privacy. That situational awareness will imbue people with a digital 6th sense, giving them the ability see around corners, gather information about our surroundings and even interact with objects at a distance. Nokia is offering a live demonstration of this 6G sensing capability using prototype radio equipment.
 Network on the moon
Nokia Bell Labs is partnering with Intuitive Machines and Lunar Outpost to deploy the first cellular 4G/LTE network on the Moon as part of a NASA initiative. One of the primary goals of the mission is to prove that the same cellular technologies used to connect our smartphones on Earth can be used to provide communications and critical connectivity for future lunar missions. Nokia is deploying a 4G/LTE network on the Moon, which will provide the critical command-and-control and video streaming links to a Lunar Outpost rover and other lunar vehicles.
 Unlock 5G revenue with ecosystems
This demo is about our view of how to use programmable networks to unlock 5G revenue with digital ecosystems. We enable digital ecosystem participants (Enterprises, application developers, content developers) to take advantage of 5G networks to collaborate, innovate faster and unlock new business value.
 Immersive voice
Immersive Voice brings the future of phone calls to you – today. You can hear the caller's sound environment around you, just like if you would be on the other end yourself. You can use head-tracking to get fully immersed and adjust the direction from where you hear the other participants in telcos.
 Smart & Safe Railway Networks (NCRTC)
The Delhi-Ghaziabad-Meerut RRTS is the first in a phased development of a high-speed rail network out of 8 phases. Nokia is working with Alstom to deliver a private wireless network for (NCRTC) Delhi to Meerut RRTS – it is also the World's first LTE/4.9G private wireless network to support European Train Control System (ETCS) Level 2 Signaling. The private network being deployed enables trains to use radio signals to continuously receive their movement authorities and to report their exact direction and position to ensure the safety of all on board. The low-emission RRTS will transport more people at average speeds of 100 kmph to reduce travel time and road congestion.
The introduction of LTE/4.9G technology for ETCS is an important asset for railway operators and will pave the way for a smooth transition to FRMCS (Future Railway Communication System).
 Real-time eXtended Reality Multimedia
RXRM is a software solution that opens up the possibilities of 360° video and audio capture to industrial and commercial applications. With RXRM, enterprise can drive further efficiencies, improve productivity and employee safety, and harness new revenue streams. It affords both industrial and entertainment use cases and allows both fully local deployment and cloud based, multi-tenant services.
 Nokia One platform for industrial digitalization
Technological advances under the umbrella of Industry 4.0 are enabling companies to become data-driven and to adopt zero touch automation to transform their operations. Nokia One Platform for Industrial Digitalization is designed to simplify digital transformation for industries and deliver secure, reliable and high-performing wireless infrastructure.
Nokia MX Industrial Edge (MXIE) is a future-ready on-premises edge solution that accelerates the digital transformation of industrial operational technology (OT) environments. It combines the agility and simplicity of an edge-as-a-service model with a high performance, resilient and secure edge architecture designed to meet the mission-critical needs of asset-intensive industrial environments.
 Next Gen Zero footprint energy solution
Reduced energy OPEX by eliminating air-conditioning.
Site rental saving with close to zero footprint (wall/pole/rail mount)
Maintenance saving with NetAct monitoring and (fanless) zero maintenance solution.
TCO improvement with reduced space and energy consumption, reduced implementation effort
 Stead E band Antenna: enabling stabilized urban coverage boost
SteadEband, a stabilized three-foot antenna that mitigates the common E-Band issues, which include tower vibrations and thermal movements such as the expansion or contraction of materials. Combined with the UBT-m XP, it can increase the typical E-Band link distance by up to 50 percent, helping mobile operators deliver multi-gigabit 5G connectivity to their customers or 5G mobile networks, delivering the highest capacity and ultra-low latency.
 Mission critical network with tele-protection
As utilities worldwide embark on modernization, substation automation, they face the challenge of migrating legacy mission-critical traffic from TDM-based transport networks to new IP/MPLS-based communications networks. Legacy mission-critical applications, such as tele-protection applications, demand stringent and deterministic transport. Of the various protection schemes, differential protection further requires symmetric delay.
Nokia IP/MPLS network can help network operators to meet the challenge of migrating legacy mission-critical traffic and also engineer the network to meet their general requirements. Our field-proven solution delivers teleprotection over IP/MPLS and packet microwave radio.
 Small cell solution with Piggyback option
ASOF fills the gap for a small form factor BBU (baseband) that can be used to create attractive street-side installation together with Small Cell RRH:s
Smaller size for an attractive piggy-back installation together with RRH (remote radio head)
Mainly targeted for outdoor Small Cell street-side/city-area sites.
 Automated and secure networking for 5G transport and data centre
 FWA (Fixed wireless Access): Nokia Converged Multiaccess gateway unifies the broadband age and provided solution for broadband network gateway as well as fixed-wireless access gateway. Salient features are:
Fixed and fixed-wireless user-plane on FP4/FP5 based SR platforms
Efficient bandwidth scaling => Multi-Tbps/RU
Power and space optimized
Deterministic HW based HQOS
Simpler deployment with faster time-to-market
DeepField: Nokia DDoS security solution combines petabyte-scale big data IP analytics (provided by Deepfield Defender) with the power of advanced network routers and next-generation DDoS mitigation systems to fight DDoS with unprecedented scale, efficiency and cost-efficiency. The Nokia DDoS security solution brings significant benefits over legacy (appliance-centric or DPI-centric) approaches: better scalability, improved detection (with lower false positives), more agile and granular, network-based mitigation – and all this with much-improved cost efficiency.
 Programmable Datacenter fabric: Nokia's Datacenter networking solution delivers advanced network automation with "built-in" capabilities to manage entire lifecycle of the Datacenter fabric (i.e., Day 0 design, Day 1 deployment, Day 2+ operations). Nokia's datacenter automation system i.e., Fabric Services System, integrates with major cloud platforms (ex: Kubernetes, Openstack, VMware etc.) to provide closed loop network automation to virtualized and cloud native applications. The inbuilt Digital Twin functionality helps network admins to simulate, test and validate network changes in digital sandbox to greatly de-risk the network deployments.
Metaverse based Intelligent Factory Management system
This is an Industrial Metaverse-based, intelligent factory management system. The metaverse uses the various emerging technologies like Digital twin, AI/ML, Extended Reality (xR), Block chain, Distributed Data Service and Decentralization and aims to make the factory operations smarter, interactive, efficient and defect free. This solution is supported by 5G communications and as we scale this up, 6G will be needed.
NI Wall
We are the world's most trusted system partner for the world's most critical networks.
Nokia NI BG provides secure & automated transport plus data center fabric for mission critical applications across communication service provider, strategic industries and enterprise.
Combined with our unparallel home device portfolio, we also provide E2E fixed services solution from home to all the way till gateway (included). Also, using our industry leading optics portfolio, we offer the highest data rate per fiber in metro, long haul and transcontinental networks.
 Nokia's AVA Autonomous Operations
The essence of Autonomous Operations lies in its promise of Zero X (Zero Wait, Zero Touch, Zero Trouble). This demo provides an in-depth view of how Nokia's Digital Operations Center and AVA Open Analytics, helps CSPs to unlock the revenue potential of digital ecosystems with autonomous operations. AVA Autonomous Operations is enabled by intent-based management, Observability, AI Operations and Closed-loop management.